See on Scoop.it – Plastic Prototyping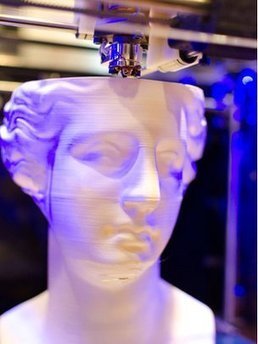 There have been dramatic headlines about 3D technology, encompassing ideas to use 3D printers to make clothes, food, firearms and the parts of a house.
It's also making an impact on education, with plans to put 3D printers into schools in the United Kingdom and the United States.
These technologies hold massive potential for young people both in and out of school.
Schools are getting interested in this "rapid prototyping" technology. But there are still the usual barriers – access, funding, teacher awareness and confidence.
However, many learners are getting 3D design whether or not their schools are ready.
One of the most illuminating advocates is a 14-year-old schoolgirl from Manchester in the UK.
Amy Mather won the European Commission's first European Digital Girl of the Year Award last year.
The schoolgirl has presented her ideas in front of expert audiences, including Campus Party at London's O2 Arena, Wired Next Generation and the Royal Society for the encouragement of Arts (RSA).
'Digital maker' movement
Amy got involved in coding and later 3D design after attending the Manchester Science Festival when she was 11.
But the key inspiration for her work has been what is loosely termed the "digital maker" movement, a global drive to encourage young people to be creative with technology.
This includes support from Fab Lab in Manchester. "Fab lab" stands for a "fabrication laboratory", where digital ideas are turned into products and prototypes.
See on www.bbc.com